What did you just say?!
Yeah, I see some eyebrows raising but let's take a look at the explanation on the internet:

This year 2017 has been a very interesting year for Tableau. Where pricing has shifted to subscription pricing and competition has been pushing harder. Most of our competitors are shouting how they now also have a "Tableau-like" solution and it does absolutely the same as Tableau. Now does it?
Let's go over some remarks we've all heard on the market. I'll be giving thumbs down if I don't agree ;-)
Tableau is a visualization tool.

Sure, Tableau is the best at visualizing data, I'm not going to debate that. But I would like to emphasize that Tableau is an analytics solution that provides more insight by making data visual. There are quite a number of visualization tools out there but Tableau is way beyond that and was always built as an analytics platform with VizQL technology, a visual query language that translates drag-and-drop actions into data queries and then expresses that data visually. VizQL delivers dramatic gains in people's ability to see and understand data by abstracting the underlying complexities of query and analysis.
Tableau is a tool, not a platform

Tableau started out as a tool but is now a full blown analytics platform. Aligned with Tableau we have the approach to discover and descend from the top down of an organization and implement true self-service, guided and corporate analytics coming all from one platform. Tableau scales on an architecture level with load-balancing and disaster recovery. Using tight security it integrates seamlessly with corporate standards.
Tableau is really expensive

Let's address the elephant in the room here. Tableau is not the cheapest solution on the market if you look at only the licensing cost. We can prove again and again Tableau is always the fastest solution to deliver reports and dashboards making the TCO of the project cheaper than it's competition. Combine fast delivery with a great user experience and Tableau's ROI is unparalleled.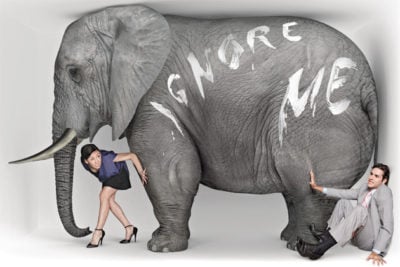 Tableau can only do self-service

Yes, Tableau is absolutely hands down the best self-service solution on the market, but it can do a lot more than that. Addressing questions like corporate reporting with clean ready to print PDF distribution and report bursting. It offers out of the box alerting on that can be set by any user. And yes, if you really want we can still get you to those classic pivot table report style lists.
Guided analytics is also a big thing where we hear that Tableau supposedly has challenges. We beg to differ and our own Timothy Vermeiren has a great presentation on this. You can check that out here: https://www.biztory.be/2017/06/08/data-analytics-conference-guided-vs-self-service-slides/
Geoffrey, what are you trying to say?
So.. is Tableau oldskool? Well.. it has become the new norm. We were the new kid on the block and now we're the Enterprise Standard. Don't take my word for it. Our recent projects tell us a story:
Full migration from Business Objects to Tableau at one if the biggest Dutch insurance companies
Deploying Tableau for 5000 users at a large bank in Belgium
Replacing IBM Cognos with Tableau on Amazon on a large scale for a government
Tableau is the corporate standard for a logistics player in Belgium
More than 5 pharmaceutical companies are using Tableau for advanced analysis on sales, finance and market analysis
Tableau is becoming the oldskool. We set the bar how things get done, always on par with the highest standards.
Looking forward to your comments and input ;-)
Geoffrey