Tableau Conference Europe 2018 starts tomorrow, and us Biztorians couldn't be more excited! The whole Biztory team is attending conference and we can't wait to jump into the heady data-fuelled haze that is Conference, and to meet all of you, the wonderful people in the Tableau community.
You'll find us at Blend'N'Beats and we have some great content to share with you! From introducing Orbit 'your personal Tableau assistant', to showing you what we can do with Tableau extensions, TC18 Europe is the perfect time to experience the Biztory buzz—and find out for yourself why we've been named the Tableau EMEA Partner of the Year!
High Score! Challenge your Colleagues to a Game of Pac-Man
We are not-so-secret retro game fans here at Biztory, and we want to share our love for all things 8-bit with you! We've hacked a Pac-Man arcade machine for you to play — battle it out for the highest #BiztoryPacMan score while viewing the game stats on Tableau Embedded Dashboard! Come the Thursday afternoon of #TC18Europe the person with the highest score* will win an Amazon Echo; second and third place will win Echo Dots. So, challenge your colleagues and, party like it's 1980!
(*Tableau employees and Partner employees, we love you guys heaps, but prizes are for customers only. You can win huge kudos though!! )
[caption id="attachment_10129" align="aligncenter" width="780"]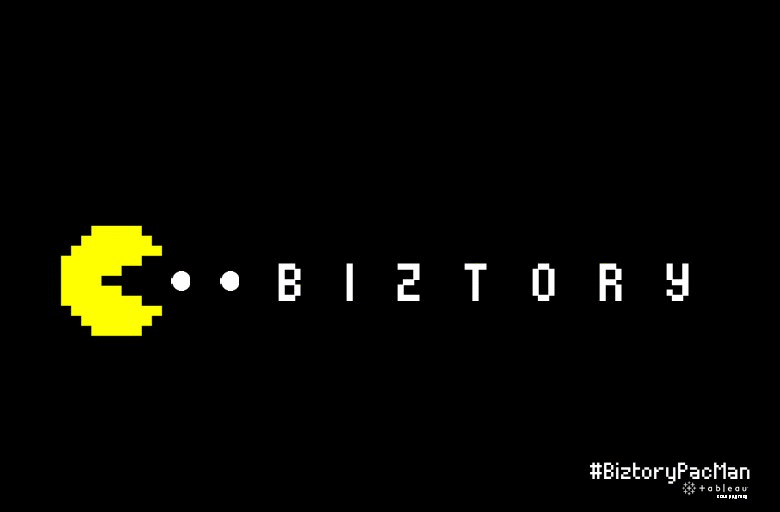 Can you beat the high score? Swing by Blend'N'Beats and find out!

[/caption]

(If you want to know more how we made #BiztoryPacMan, just ask! We'd would love to tell you how we did it.)
Become Truly Data-Driven with Orbit and our Center of Excellence
From data lakes to plain drowning in data, becoming a data-driven organisation is hard. Biztory has created a range of solutions to help you cut through the data noise and build a strong data culture.
Orbit
We are proud to introduce Orbit, your personal Tableau assistant. Orbit lets you find, collect, and share Tableau visualisations like never before. Orbit's clever algorithms put the most relevant content for you front and centre, enabling you to group them into collections — like playlists — then export to various formats to quickly share…on any device. Let your data should be as modern and mobile as you are.
Find out more about Orbit here. We are also offering a special discount on Orbit to TC18 Europe attendees. Talk to us at our booth for more details!
Center of Excellence
Becoming data-driven requires intentionality, focus and a clean plan. With Biztory's Center of Excellence method we outline a pragmatic set of six steps to keep you focused on moving where the data leads. We call these the Six Pillars of an Analytics Center of Excellence. By using this staged approach, we can help you achieve self-service analytics at scale.
Find out more about our Center of Excellence approach here.
Customer and Community Sessions You'll Want To Be At
Biztory: Scaling Tableau Server in the Enterprise: Cores, Community and Crowdsourcing
We are honoured be to able to bring you David Walker Self-Service Analytics Lead & Architect at Cargill.
David faced the challenge of having to build a large, and thriving, Tableau community with a minimal. You'll hear how he, in collaboration with Biztory, brought thousands of users onto a single Tableau eight core over a space of three years. You'll also hear how we manage the environment, and how we're planning for the future.
Make sure to star the session in the conference app now. Wednesday 10:30-11:30 in Capital Suite 1.
Data + Women
Biztory is a proud supporter of women in data and strives to build an environment where women feel confident and can grow professionally and personally. So, we are thrilled to have Sophie Sparkes our Biztory UK Managing Partner taking part in the Data + Women panel discussion. The panel will discuss a range of topics including what kind of data they work with, their professional journeys, and any advice they have.
Star the session in the conference app and come along. Wednesday 18:00-19:15 in Capital Suite 14.
Demos in Your Language: English | Deutsch | Nederlands
We will be giving Server, Embedded, Extensions & Prep demos in English, Dutch and German throughout the conference. Follow @Biztory on twitter
to find out when we'll be demoing in your language, or just swing by during lunch and break times on the Wednesday and Thursday of TC18Europe to see what Tableau can do for your data.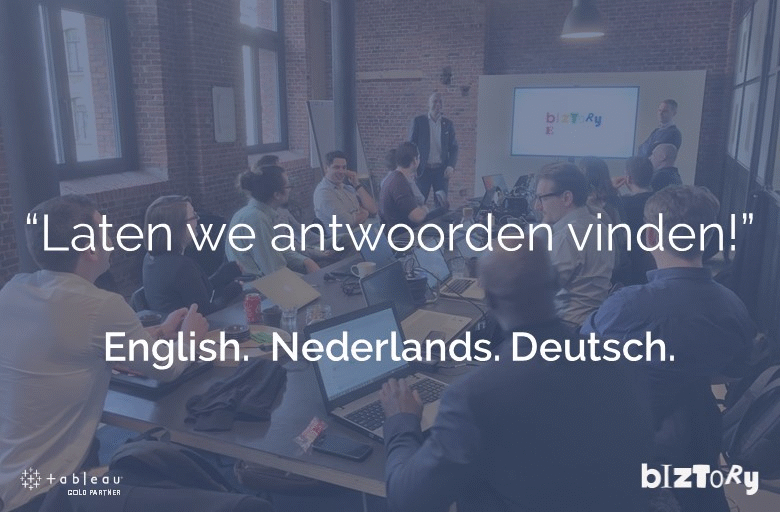 Come say 'Hi!'
Swing by Blend'N'Beats and meet the whole Biztory Team! We can't wait to get to know you and to see how we can help you get answers from your data. Easier. Faster.
[caption id="attachment_10128" align="aligncenter" width="780"]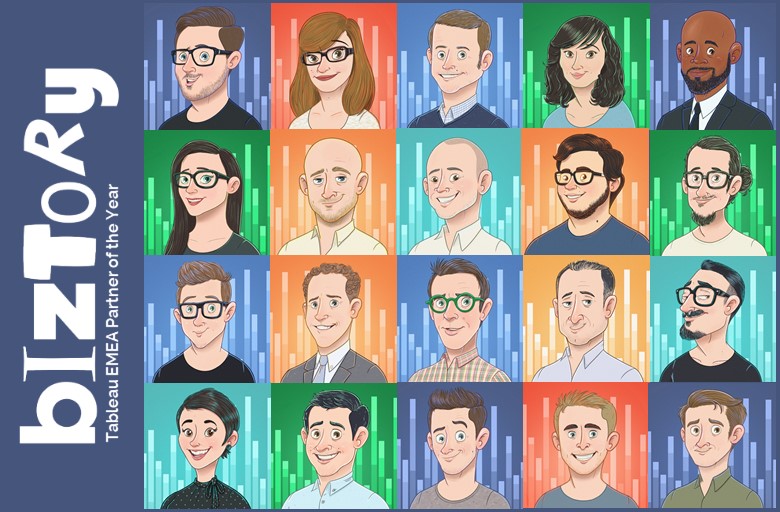 Come say 'hi' to the team at TC18 Europe. We're looking forward to meeting you!

[/caption]