The Salesforce Certified WHAT exam?

Last week I became a certified "Salesforce Certified Einstein Analytics and Discovery Consultant". That's a whole mouthful, but what does it mean? In this blog I want to share with you the experience of getting my first Salesforce certification… being a Tableau guy. Working with Tableau means I had quite a bit experience in data manipulation, analysis and visualisation before I put myself to getting this certificate. Yet, Salesforce only came into the picture in my professional consultancy career rather recently.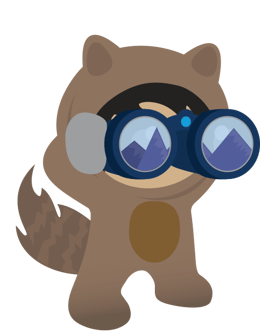 What is the certificate about?
According to trailhead, the official training resource for Salesforce, "the Salesforce Certified Einstein Analytics and Discovery Consultant credential is intended for individuals who have the knowledge, skills, and experience with data ingestion processes, security and access implementations, and dashboard creation."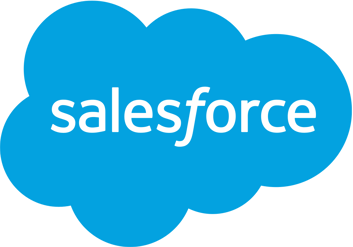 This means the exam is intended for people who have a broad knowledge of the Einstein Analytics and Discovery platform and its capabilities, including: dataset management, permissions and security implementations, advanced Salesforce Analytics Query Language (SAQL) coding for querying to support dashboard creation on both desktop and mobile devices.
Salesforce advises that you have a minimum of one year of experience, and skills across the Einstein Analytics and Einstein Discovery domains, before you take the exam. I personally think it can be done a bit sooner (I did it after 8 months); it really depends on how much time you can spend in the Salesforce and Einstein environment.



Why do I even care about getting Salesforce certified (being a Tableau Consultant)?
Why did I bother writing a blog on the Einstein Analytics and Discovery Consultant Exam when the internet is full of useful resources, right? Well, the way you prepare for a certification will most certainly vary a lot on your background and the past certification experiences you had. In my case that is basically reading, learning, writing and working with Tableau products. So my goal here is to give you a jumpstart, having a Tableau background.
I started using Salesforce products and it's ecosystem because:
Tableau officially became a Salesforce company a little while ago

As a Tableau consultant I am expected to be and stay at the top of my game

The Tableau and Salesforce products are blending into each other slowly but certainly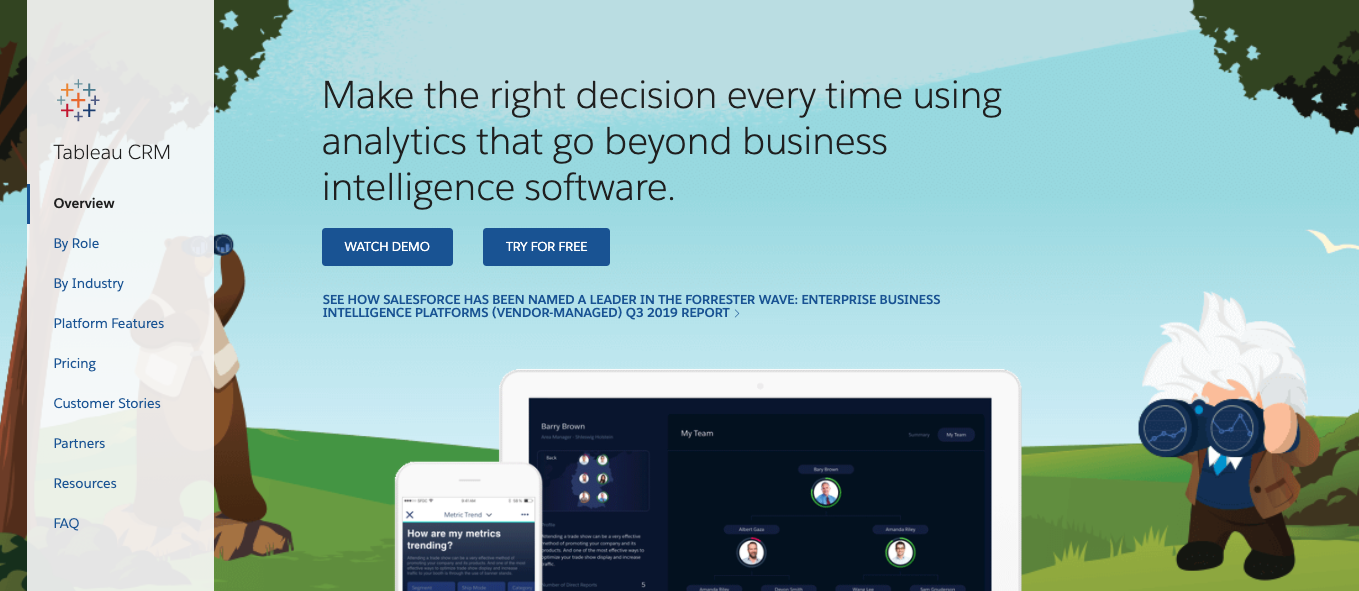 The rebranding of Einstein into Tableau CRM is already a fact on salesforce.com
And last but not least, the Einstein product line is being rebranded to Tableau CRM, a daring choice which demonstrates the ambition Salesforce has for Einstein within the Tableau ecosystem. At Biztory we believe exciting times are ahead and it's our mission to stay on the innovative frontline when the best analytics platform meets the best CRM platform in the world.
Still a bit vague what this exam is actually about, right? Let's have a look at the exam format and then zoom in on the topics.
The exam format: 6O Questions in 90 minutes
The exam is multiple-choice from the beginning to the end without any real hands-on exercises. And yes, some of the questions are those annoying "check all that apply". Those of you familiar with doing exams and certifications will immediately know that things can get tricky pretty fast. Your luck of randomly selecting the correct answer for a specific question is way lower than ⅓ of ¼. Get yourself a fresh cup of coffee: you have some old fashioned studying ahead of you.

You get 90 minutes to answer 60 of these multiple choice/multiple select questions, which in my opinion is enough not to rush through the exam; you either know the answer or you don't. I'm pleased to say that, in contrast to other certification exams I have done in the past, there aren't really any questions to trick you into a wrong answer (like double negations or fuzzy phrasings), but of course, always read the question wording as carefully as you can.

Salesforce partners with KRYTERION
register via: www.webassessor.com


The registration fee is $200 (2 retakes within the same year allowed at an additional cost of $100 each) but whenever you decide to register, try Google as there are some good reduction coupons active during the year. In normal times you have the choice to do the exam in a test center as well, but as I did mine in the middle of a global pandemic I went for an online proctored formula, which all in all was a rather smooth experience.

In contrast to Tableau certifications, you can not(!) make use of any search engines during the exam. So be sure all the knowledge you acquire is captured in your head as you have no access to any external sources during the actual exam.

The exam questions are grouped in the following topics:
Data Layer

Security

Administration

Analytics Dashboard Design

Analytics Dashboard Implementation

Einstein Discovery Story Design
Do not make the mistake of only studying some of those, as these topics are not equally weighed in the calculation of your end score.
Front End: Data vizzing, hooray!
As a Tableau person you are familiar with dragging and dropping stuff around, right? Well, in Einstein Analytics you can also build dashboards by moving stuff around, pointing and clicking yourself towards the perfect dashboard. You'll need to know how to build meaningful charts and vizzes that fulfil business requirements.
On top of that, these dashboards -just like in Tableau- need to be performant and built according to best practices. For example: In Tableau you have published data sources, in Einstein Analytics you have lenses. Lenses make sure that you don't need to tap into live production systems but that you create data extracts on which you can explore and create visualisations. Sounds familiar? Good! You are on a roll!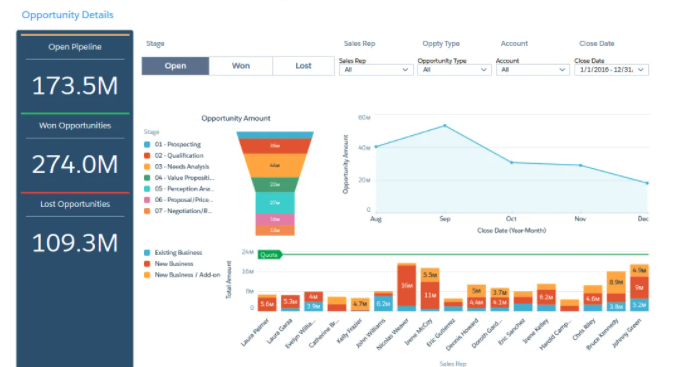 Einstein Analytics Dashboard


Your end-users will get additional questions when browsing through your dashboards, so you'll need to learn how to make your dashboards interactive, not with trusted action filters but by configuring bindings between the data and the widgets on your dashboard. You'll need to learn how to create dynamic calculations and use compare tables if your data needs some last minute transformations. Yes! That does sound a lot like Calculated fields and Quick Table calculations. And last but not least, these dashboards need to look pixel perfect, both on a big and a small screen. What did you expect?
Bring to the table:
Everything you know about visual best practices and common sense about performance optimization
Leave at the door:
Your whole Tableau Desktop features vocabulary, basically
Governance and Security: First things first.
The biggest mistake you might make when preparing for this exam is thinking it's all about making pretty vizzes and clicking through the Einstein Discovery model wizard. Don't take this lightly; the center of gravity of this exam is on security, governance, and (app) permission settings. This is probably a very good move by Salesforce, preventing you from only acquiring superficial knowledge without solid fundamentals.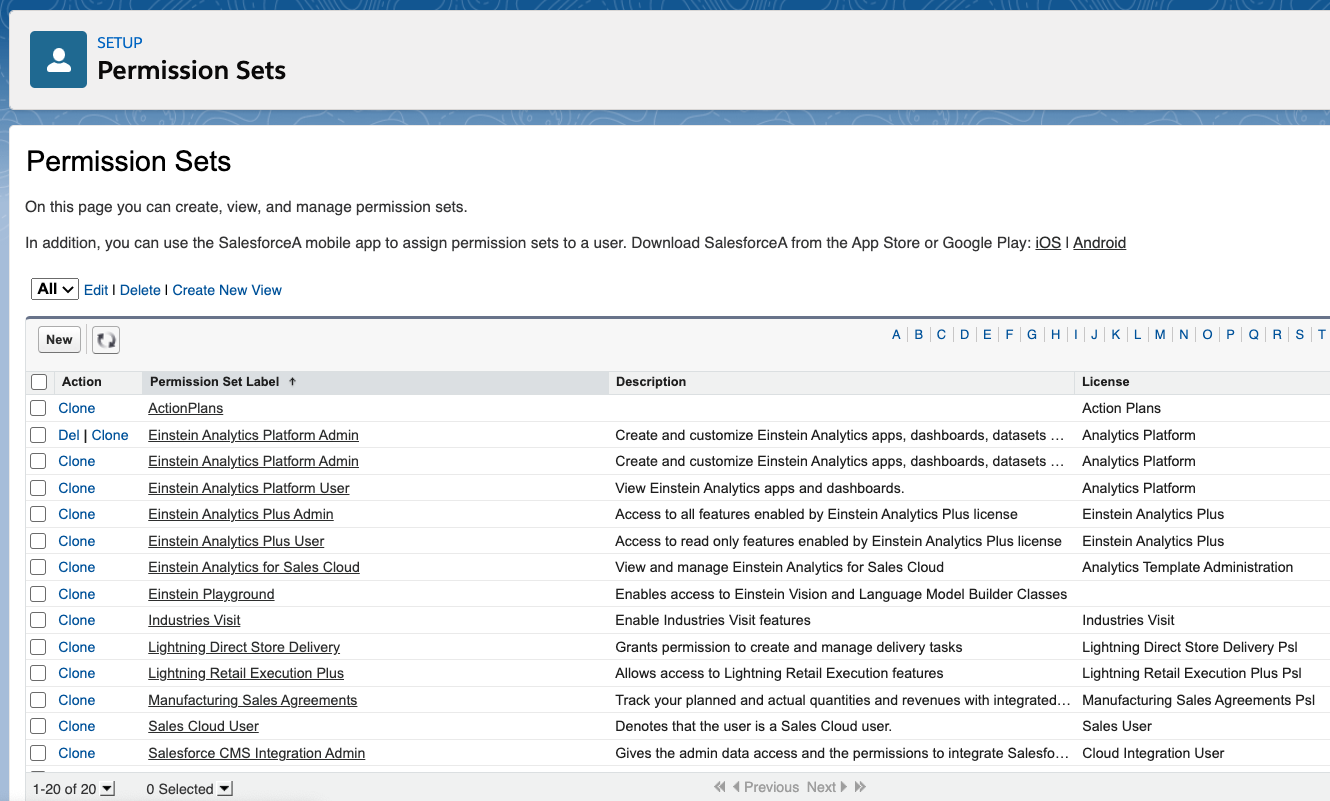 Thorough knowledge on permission sets and general user provisioning are key
And the end of the day you don't want to have consultants in the field who point and click a dashboard together like a pro but in the end have no clue on how to implement and scale the product in a safe and optimal way. Therefore my advice would be to focus on user provisioning, identity management and app permissions as early in your learning process as possible.
Bring to the table:
General principles you know about controlled decontrolling for optimal rolling out self-service analytics
Leave at the door:
The things you know about licenses, folder permissions and row level security in a Tableau environment.
The back end: no up-to-date data, no glory!
You'll need to become familiar with how to load data into Einstein Analytics. This obviously involves learning how to access native Salesforce data and external data, making sure all data extracts stays fresh and up-to-date at all times using data sync and data flow, whilst taking into account the functions and hierarchical roles (or the lack of) of the company for which Einstein Analytics and Discovery are being rolled out.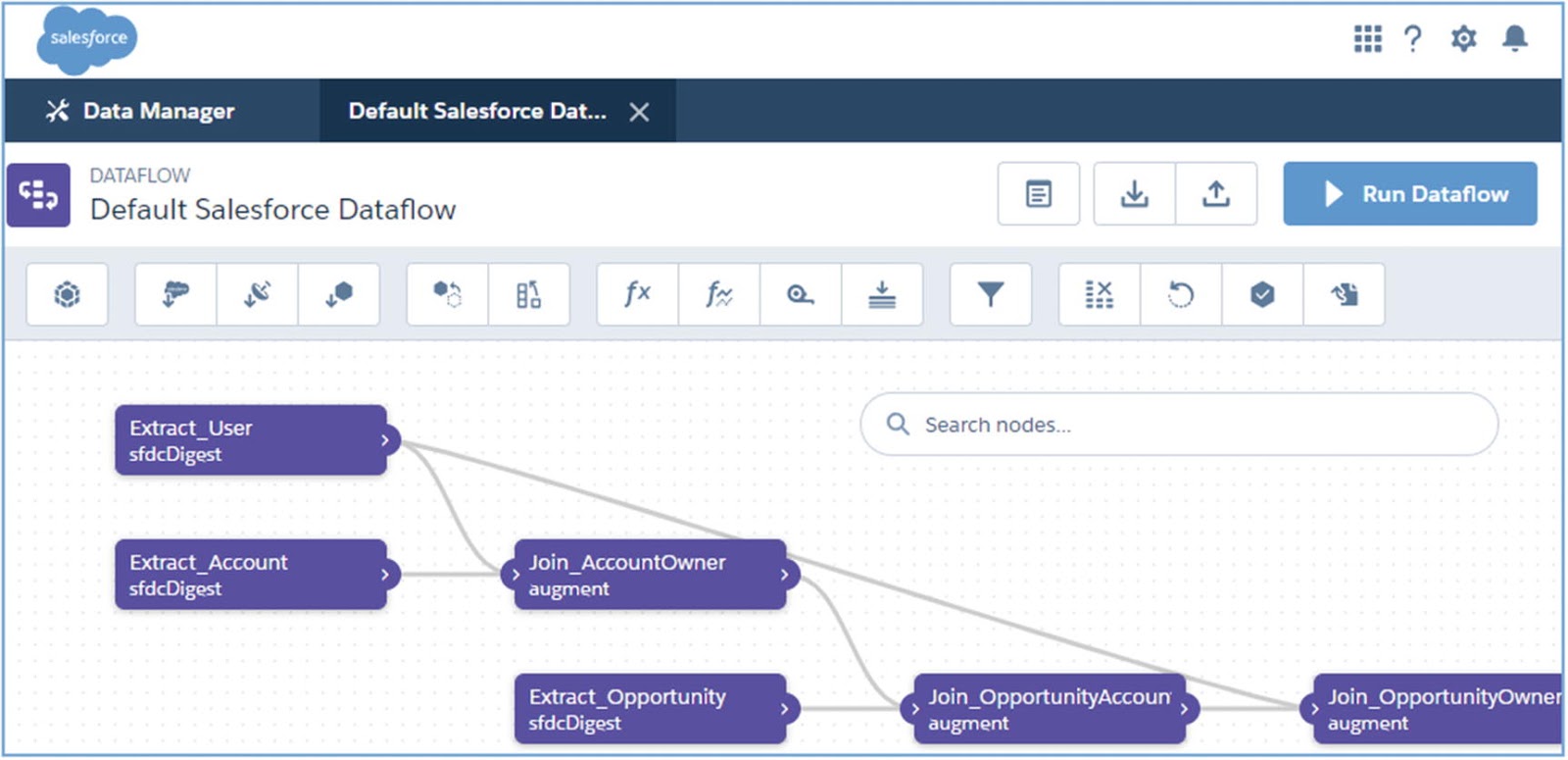 Salesforce dataflow manager
Having experience with tools like Tableau Prep and Tableau Prep conductor comes in very handy here when acquiring knowledge on setting up efficient data flows on a schedule, and taking into account the technical limits when doing so. And just like in Tableau Prep you'll need to get your hands dirty on how to create dataset recipes (calculated fields!) to manipulate your data before outputting it for further analysis.
Bring to the table:
All the formulas you have written in your life, this time with different syntax
Einstein Discovery: Go beyond the surface
Einstein Discovery is where the magic happens (but remember: "insights are only as good as the data"). Einstein Discovery allows you to easily create stories from your data. These stories provide insight on what happened, why it happened, and what could happen, providing you descriptive, predictive and prescriptive handles to carve out a solid message about how to take action in your business.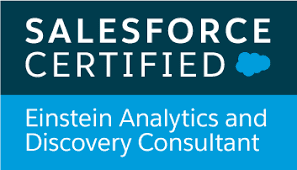 Salesforce has done a tremendous job in providing a no-code environment for the citizen data scientist ("33% business, 33% analyst, 33% statistician). However, this does not imply the Einstein consultant merely needs to be able to work through the "next-wizards". On the contrary, you'll need to be able to know things like:
When is the data ready to be fed to Einstein Discovery?

What type of models is Einstein Discovery capable of training?

How to interpret every single output screen within Einstein Discovery.

How many of these stories can I create each day and/or simultaneously?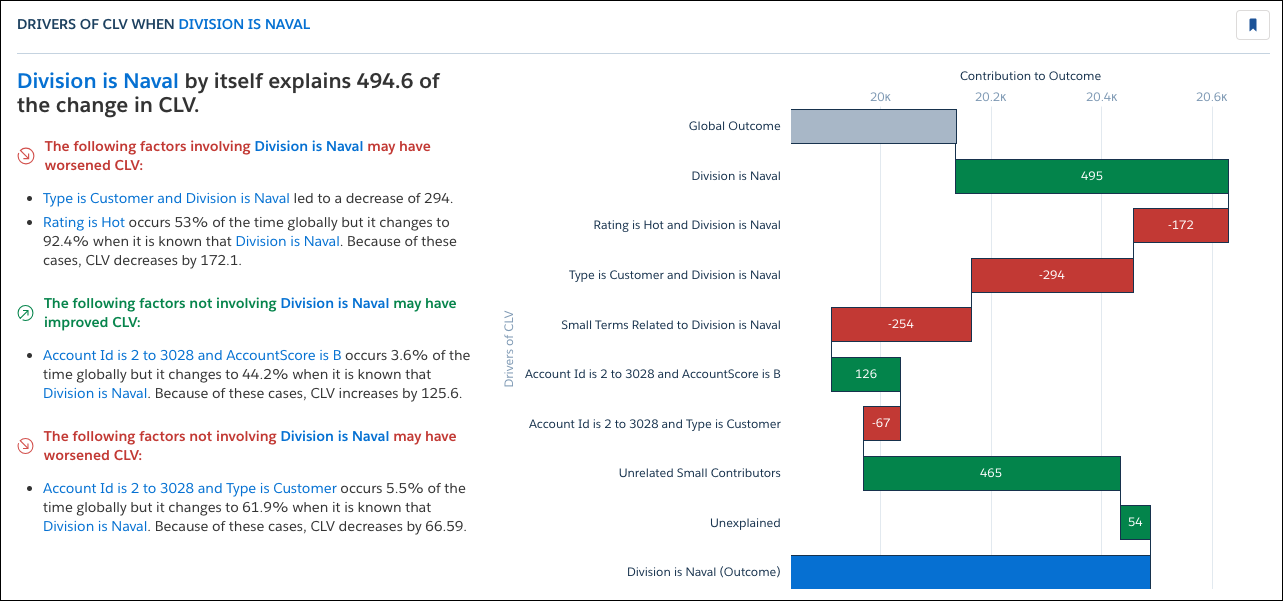 Einstein Story Output example


Bottom line, you'll need to become familiar with a whole range of statistical fundamental principles - which may not be visible at the surface of Einstein Discovery - yet are quintessential in explaining and understanding the suggestions which Einstein makes during the model training process. If concepts like Hindsight biases, model drift, k-fold cross validation and Generalised Linear Models don't ring a bell, you might want to take a step back and pick up a 101 course on statistical modeling before proceeding. Otherwise you'll run into problems sooner or later because you really need to understand the data science life cycle to make optimal use of the product.

Prepping for the exam: A few unconventional tips.
Obviously you want to make use of the official exam guide which is available online. But here are my top 5 tricks to quickly get you up-to-speed and detect gaps in your knowledge.

TIP 1: Recreate Superstore Dashboards in Analytics Studio
Upload the Tableau Superstore dataset and try to recreate the dashboard within Einstein Analytics, including all functionalities such as quick filters, color coding, action filters, chart types and general lay-out. This is an extremely efficient way to transpose your Tableau-specific dashboarding knowledge into the Salesforce environment.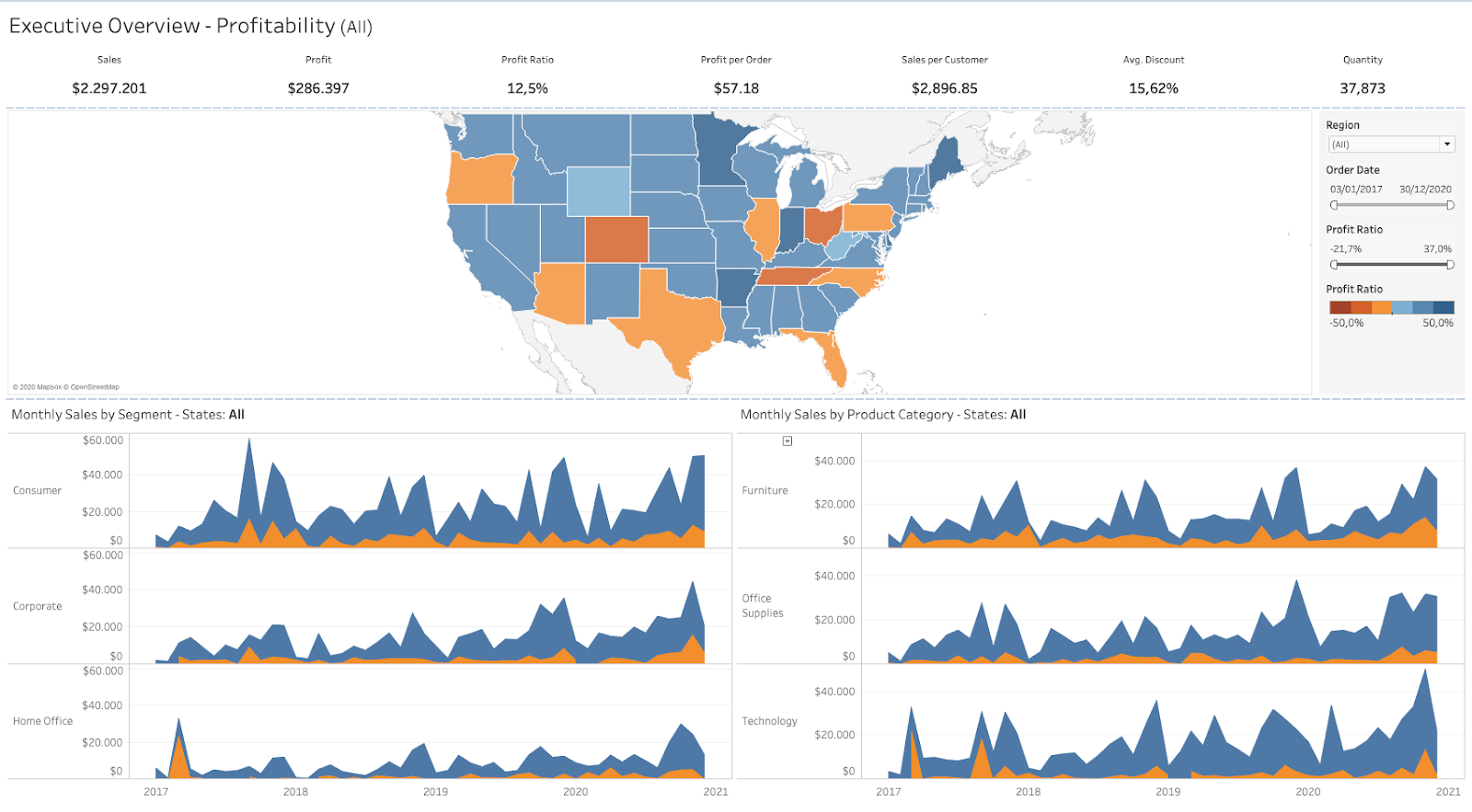 The Superstore dataset default Tableau Dashboards


TIP 2: Create a story on the Superstore data, maximizing Sales
Upload the Tableau Superstore dataset and create a Story on it, maximizing Sales using Einstein Discovery. As you are familiar with the dataset and it's columns, and you probably already have some main insights on the dataset, the digestion of the Einstein Discovery output screens will go way smoother, compared to using a Salesforce native dummy dataset which does not resonate with you at all (Tables in the East, anybody?)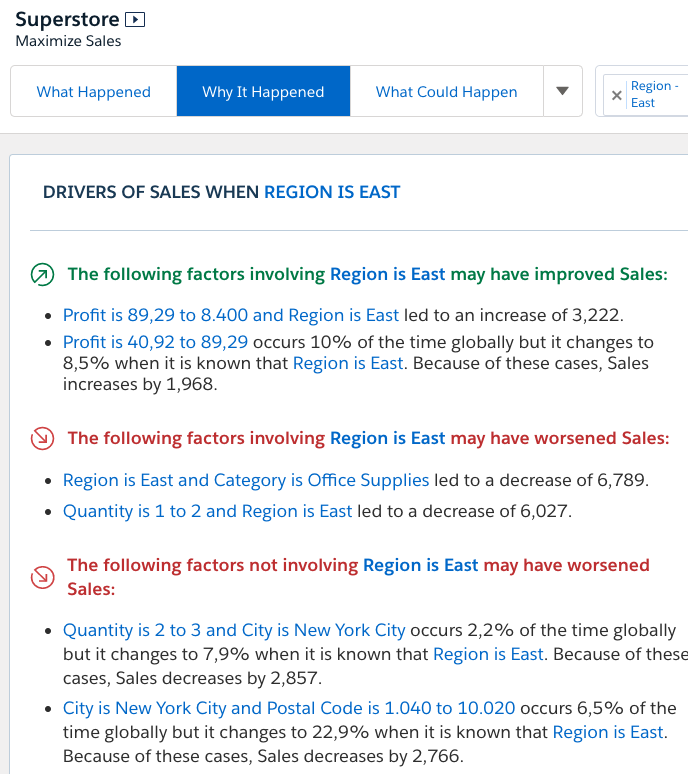 Getting to grips with these Discovery outputs is easier with a dataset you already know
TIP 3: Pay attention when filling out Trailhead Badge Test Quizzes
Another great thing to know: the quiz questions you get at the end of every badge module on Trailhead (www.trailhead.com) are actual official exam questions. Isn't that amazing? Of the 60 questions I got on my exam I recall at least +-10 (probably more) coming directly from these quizzes I did. You might even want to consider writing these down for later studying purposes.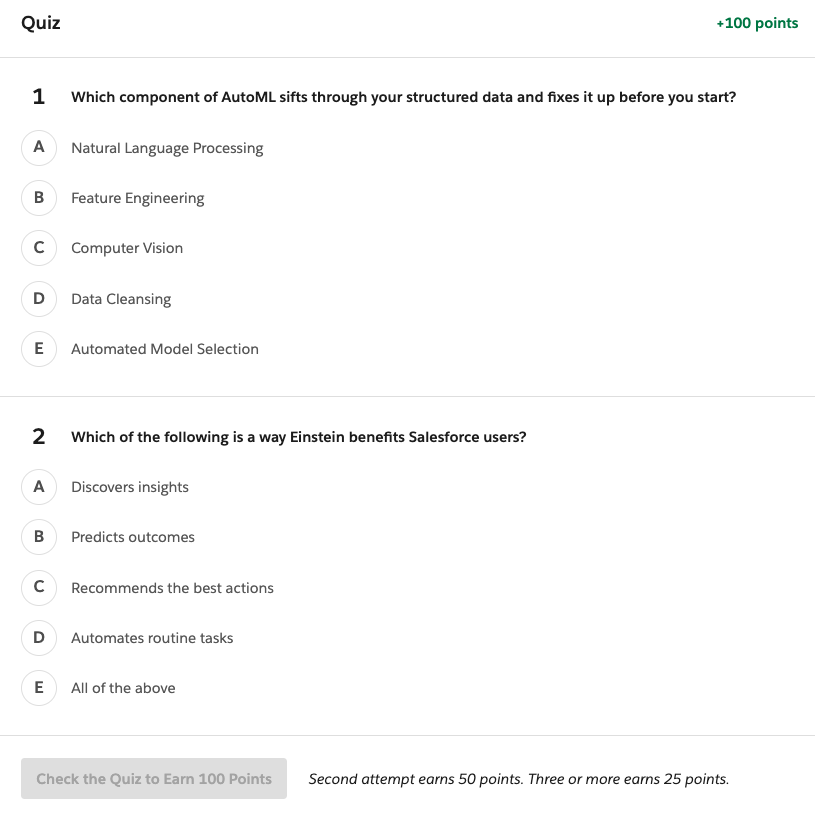 The little quizzes are more important than you might initially think.


Conclusion
Being a Tableau person, you have all it takes to take a jumpstart in the journey of learning Einstein Analytics and Discovery. There is a lot of past experience and knowledge you can bring to the table. At the end of the day it'll come down to changing the data vocabulary you are using today.

And although the Einstein Analytics and Discovery Consultant exam may not be hands-on , it has a very big focus on the "where does this happen" and "where do I find this feature" so you'll need to spend a lot of hours in the product interfaces until you know exactly what is behind every (dropdown) menu. Just like back in the days, when you got your hands on Tableau Desktop for the first time and you could not wait to spend more time on the tool, remember? I surely do.
Now go and start learning!
- Tim Dries
Technical Consultant at Biztory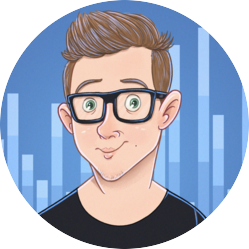 Further preparation


Salesforce official Resources Overview

We recommend a combination of hands-on experience, training course completion, Trailhead trails, and self-study in the areas listed in the Exam Outline section of this exam guide.
The self-study materials recommended for this exam include:
Trailhead Trails:
Trailhead Superbadges:
To review online Documentation, Tip Sheets, and User Guides, search for the topics listed in the Exam Outline section of this guide and study the information related to those topics. Documentation, Tip Sheets, and User Guides can also be accessed through Help & Training.
Instructor-Led Training Classes:
Learning Guide:
Reference Documentation:
Data Layer

Security
Admin
Analytics Dashboard Design
Analytics Dashboard Implementation:
Einstein Discovery Story Design