Tableau Training is something that organisations around the world are looking for. We have seen it done well, we have seen it done not so well. We want to help you get the best value training course for you and your team to succeed with Tableau.


The Biztory approach
At Biztory, we pride ourselves on being a certified partner to deliver Tableau training on behalf of Tableau. This means we can offer the official Tableau syllabus, developed by a team of curriculum and learning experts. As of today, Biztory has delivered some form of Tableau Training to over 1750 users; from Tableau Desktop Fundamentals to Tableau Server Admin. We are data enthusiasts at heart and while delivering training we are always looking to delight our class attendees, giving them the best learning experience possible. This is proven in our Customer Satisfaction score of 9.14 out of 10 for delivering Tableau's official syllabus of training across all courses.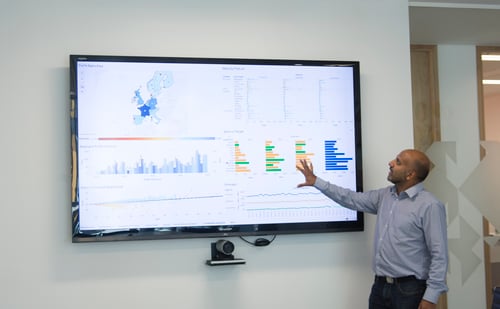 What sets us apart?
Our approach to training is a little different. The content is geared around the functionality of the tool we are training, we know Tableau very well. The most important thing to us when we are delivering training course is not the content. We try to build a "Why" into every concept and exercise that we cover.
Simon Sinek has a great TED Talk (with over 28 million views) based on the concept of "Start With Why". He says, "People like Martin Luther King Jr., Steve Jobs, and the Wright Brothers had little in common, but they all started with WHY. They realized that people won't truly buy into a product, service, movement, or idea until they understand the WHY behind it."
Let's think about what Simon is saying. There are many products, services, and ideas around in the world, many are very similar or the same. But the thing that differentiates them is the WHY behind them. We have taken that on board and we talk about the Why behind the concepts and chart types. Why use a bar chart? Why use a line chart? Why create a level of detail calculation? By addressing the why, explaining the concept being addressed by a given feature, and then demonstrating some use cases (both those from a business scenario and some from more conceptual scenarios) we find that attendees to our courses can understand the concepts, and be able to apply the knowledge in their own environment.
We offer training in various environments, depending on the course. It could be a public course with attendees from a range of industries and organisations, or we can deliver a course to you and your team which allows us to call upon our experience to tailor the use cases and the "Why" to be relevant to your data and your questions.
As the Skills Domain Lead at Biztory, it is my responsibility to ensure our trainers are well equipped with the tools to provide you with the Tableau skills to make the most of your Tableau Platform. If you are interested in learning Tableau, drop us a message and we will be happy to run through the options available to you.
- Anoop