1. What is Embedded Analytics?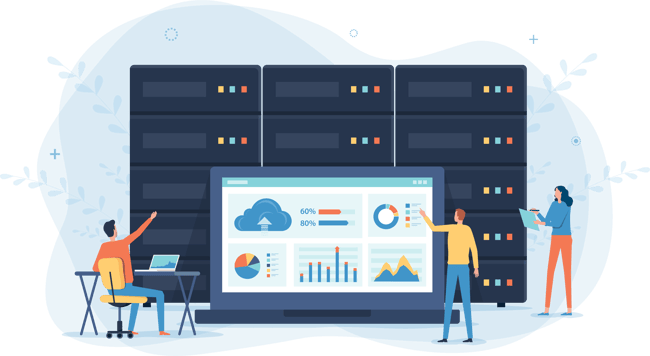 Embedded analytics is the integration of data analytics capabilities of data analytics tools like Tableau with your own products or applications. So basically: using data by incorporating it into your own existing software or apps to share it with your users.
While embedded analytics and traditional BI are similar in their objectives, there's a big difference in terms of the context and use case for it. Let's take a look at traditional BI first.
Traditional business intelligence: With business intelligence, users can gain a centralised overview of information from different departments and data sources. It helps people make data-driven business decisions with reporting based on current or past performance.

Embedded Analytics: embedded analytics integrates data analytics into existing platforms like websites, software and applications to enable users to gain insights relevant to the existing platform or associated workflow. The data that is being used here, can come from various data sources - like the application it's embedded into.

So, now that you have an understanding of what embedded analytics is, let's take a look at how you as a product leader can benefit from
2. Reasons to start with Embedded Analytics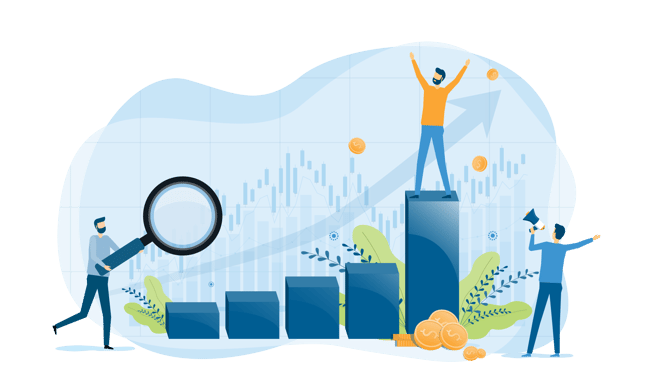 Whether your business is large or small, you have data. Having data means you most likely also have the potential to leverage that data to build a better customer experience, or upgrade your services to partners and vendors.

Embedded analytics allows you to bring impactful data and insights to the fingertips of everyday app users. For product leaders looking to move beyond the uses of traditional BI with ways that leverage data into new revenue streams or seamless user experiences, here are some of the reasons why you should consider getting started with embedded analytics.


Reason #1: Increase revenue through data monetization
Data monetization is a hot topic in the world of analytics right now. As the amount of data available to organisations is increasing, companies are realising that there are non-traditional and innovative ways to use this information to monetize their data. Data monetization happens when you turn company-generated data into measurable economic benefits for your business. Like cost reductions, additional revenue streams, etc.

Retailers like Ocado, for example, monetize their data by providing their B2B customers with access to embedded dashboards that help them understand how to sell better on the Ocado platform: Crunch Grocery Insights.

Ocado isn't the only company jumping on the data-monetization-train. Research predicts that the embedded analytics market is expected to grow to $77.52 billion by the end of 2026.


Reason #2: Improved User Experience with Embedded Analytics
Embedding analytics into your applications with tools like Tableau allows you to deliver the insights your users want and need. It's a way to provide users with easier, more seamless access to data - so they can find answers to their questions without having to contact support.

Interactive dashboards help to create even better user experiences, because they aren't limited to predefined questions or static reports. They allow users to drill down into any question they might have, to find an answer based on actual data.


Reason #3: Faster time to market
Embedded analytics solutions integrate data analytics into your products, apps and web portals quickly, meaning you don't have to build, develop and manage the resources and cover the costs of building your solution from the ground up.

Leveraging the capabilities of existing tools like Tableau and Snowflake to share and visualise data with more users seamlessly, get you up and running pretty fast, and can thus, deliver a competitive advantage over competitors that choose to build their embedded solution from scratch.


Reason #4: Scale data-driven decision making
As mentioned earlier, embedded analytics brings insights closer to the right existing workflows, whereas traditional BI requires a user to leave an app or product to switch to an analytics tool to use the information for a decision about the initial app or product they were using. With embedded analytics, you move data and insights beyond IT departments. Everyone across the internal organisation access comprehensive, accurate and trustworthy information to make data-informed decisions.

And it goes even further when enabling external users, like customers, partners and vendors with the same capabilities. Arming external users with valuable insights, all frontline users and partners can make more informed decisions at every interaction, driving better outcomes and results.


Reason #5: Increase customer stickiness
Embedded analytics are a great way to increase customer stickiness and drive active usage of your app or solution, as users have easier, more seamless access to data. No need to reach out to support or have to log a ticket. End users can explore data and quickly find answers to their questions, because they aren't limited to predefined reports.

The customers of today are spoiled. Deliveries within 24-hours at your front door, access to the internet wherever they are, and the ability to access information exactly when they need it. This information however, needs to be accurate and accessible in real-time. Again, Embedded Analytics makes this possible, making it a great way to get a competitive advantage in the market.
3. Embedded Analytics: Use cases
As you can guess from reading all the above, companies in many different industries rely on embedded analytics to make meaningful use of their data. There's a great variety in use cases for embedded analytics too. So, let's look at some practical examples and uses of embedded analytics to make things a bit more tangible:

Use Case 1: Within a product or SaaS platform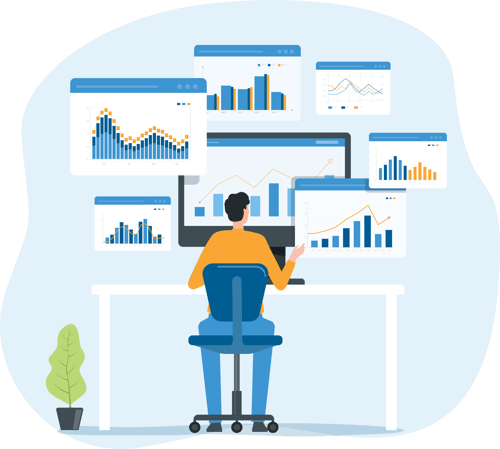 Analytics can be embedded in an existing product or SaaS platform to create a better and more powerful user experience for users of the product / app. Users can engage and explore data within the software itself and leverage insights to produce relevant outcomes.

Raw Stadia, for example, delivers powerful analytics to sports teams to gain insight on how the playing surface influences the performance and the welfare of their players. Merely collecting the data as a service is insufficient. They empower their end users by providing them the right tools to harness valuable insights from their data to optimise and facilitate decision making processes about the pitch and the players.

Use Case 2: Within a website
Embedding analytics in a web portal is another option. This is especially useful for businesses that rely on fast-decision making in uncertain times. Ocado Group, for example, is a technology-led global software and robotics platform business providing a unique end-to-end solution for online grocery around the world.

With a new business venture called Crunch Grocery Insights, they sell access to embedded dashboards that help other companies understand how to sell better on Ocado. It enables their existing customers to understand more about their usage of the platform and their success on the platform in comparison to other suppliers.
Use Case 3: Internal operations & workflows
Embedded analytics do not only serve external purposes. They can be used to improve and optimise internal tools, operations and workflows too. Planning the internal work capacity of your team with upcoming projects, open POs and overdue payments would require you to switch between planning, finance and accounting tools. With embedded analytics, you could organise this data in an easy-to-consume-way.
4. Embedded Analytics: Build or Buy?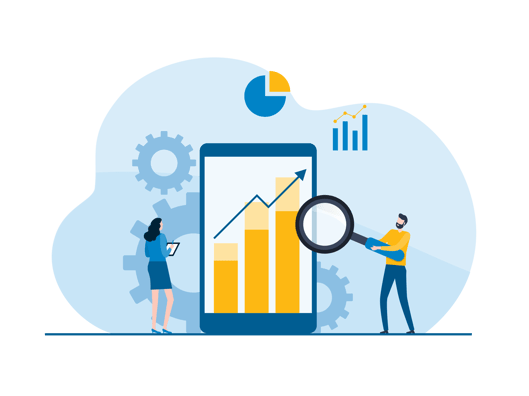 When it comes to embedded analytics, there are basically two options to get started: building your own solution, or using an embedded solution that has already been built by another provider like Tableau for example.

Building your own embedded analytics solution provides you with more control on the software and leaves more room for customization. When it comes to security and handling sensitive data, a custom-built solution allows you to handle security issues in-house. The downside, however, is that building a solution from scratch requires a significant amount of time, resources and budget .

Leveraging the capabilities of pre-built solutions is less expensive and time-consuming. They typically offer a faster go-to-market with a higher ROI overall. When choosing this path, it is - however - important to really evaluate your options, to make sure your solution provides maximum security and customizable capabilities.
5. How do you get started with embedded analytics?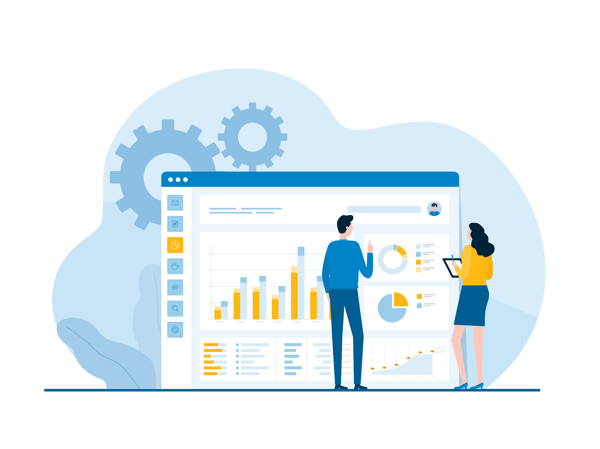 The question now is: "how do you get started with embedded analytics?"
As with every data journey, embedding analytics is about more than just the technology you choose or build. You need the right processes and people in place for a successful implementation and to sustain your desired outcomes afterwards.
Here's a short step-by-step process to help you get started on your journey:


Step 1 - Define business goals: What is the main reason to start with embedded analytics? What is the business problem you want to solve, or the opportunity you want to seize? Knowing what it is that you want to achieve, will help you determine the right direction and scope of your project.

Step 2 - Understand your architecture: When your embedded solutions scales, it will likely affect your existing BI tools. You want to make sure that your existing servers and databases can support an embedded analytics application, by assessing the current infrastructure and existing data stack.

Step 3 - Evaluate different technologies: There are a lot of well-established providers out there that make embedding analytics easy for you. Think of Tableau, ThoughtSpot, Looker, etc. But you still need to make sure that you're picking the right technology for your business and specific use case.

Step 4 - Security and governance: Embedding data often comes with security concerns. Mapping who should have access to what data, how access is granted, and what users can do with the data once they gain access is a crucial exercise to make beforehand.

Step 5 - Get ready for a cloud migration: A cloud-based infrastructure allows you to scale your solution much easier and faster. Thanks to API integrations, the cloud also offers more flexibility, which makes complex use cases easier to overcome.


Next steps
If you feel like you're ready to get started with embedded analytics and go on an accelerated data journey or simply want to explore your options; we've got you covered.
There are three easy ways to make your first step and to get your journey started:


Data Maturity Audit: A quick scan that assesses your current level of data maturity and data stack infrastructure. Based on your responses, our consultants can identify pain points that will help you find the quickest road to success.
Book an Embedded Lab: In this Lab, our consultants will take time to understand your business challenges and design an embedding strategy to ensure you can offer a rich feature set within a secure and scalable environment.
Talking to a sales consultant: Getting your journey started can be overwhelming. Talking things through with experts on our team can already bring a lot of clarity on the scope of work, and what your journey might look like. Greatness comes from small beginnings, so why not just take a first small step?