I actually got inspired to write this post after reading a post by Nils Polano on the opportunity of CRM Analytics and a study on application switching. We spend way too much time toggling between applications in the work space. It's often dismissed as "this is how we work now". Just as you read this article, honestly out loud tell me how many tabs and apps you have open at the same time. For me at the point of writing it was 11 tabs and 3 apps. A fortune 500 company example mentions that to execute a single supply-chain transaction, each person involved switched about 350 times between 22 different applications and unique websites. Over the course of an average day, that meant a single employee would toggle between apps and windows more than 3,600 times. Let that sink in. 3600. (source: https://hbr.org/2022/08/how-much-time-and-energy-do-we-waste-toggling-between-applications)

So why am I writing about being excited about Salesforce and Tableau two years after Salesforce acquired them? Well if you're more experienced with Salesforce and know less about Tableau, this article is one you shouldn't miss. Let's find out in these three reasons below.

Reason #1: The elephant in the room
Let's get this one out of the way. Before acquiring Tableau, Salesforce had a wonderful product: Einstein Analytics now rebranded to CRM Analytics. To make it even more challenging, Salesforce already has some set of standard reports and dashboards so why would any customer want to buy CRM Analytics, or even Tableau?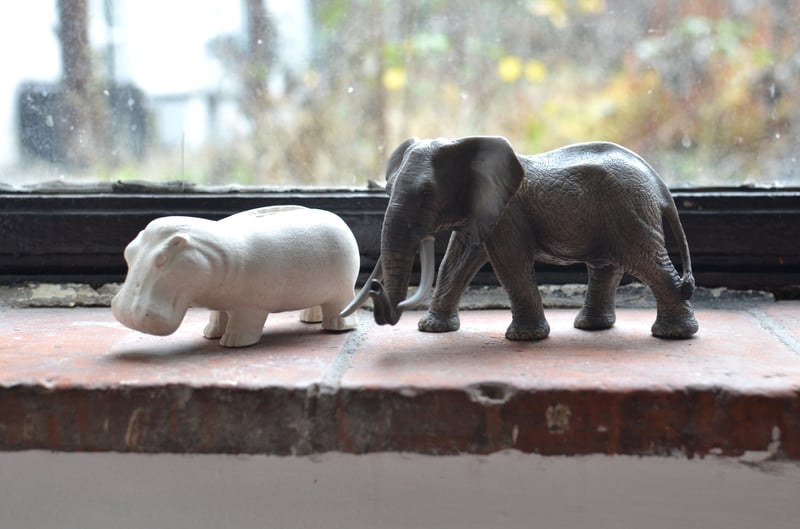 Obviously it depends on your wider use case, but I think for any enterprise business it should be clear that Tableau is the perfect analytics solution than can manage all of your applications, including Salesforce. Next to that, CRM Analytics is the perfect fit to remain in your analytical workflow directly in Salesforce Sales or Service Cloud.
"But they look almost exactly the same" I hear you think? Well... Kind of but no. Almost any visual analytics solution kind of looks the same since Tableau revolutionised this area with their launch in 2003, taking over the market of competition in the many years after.
As a long standing Tableau Partner and being part of the #datafam, it's quite easy for us to easily think and say that Tableau is obviously the only one and best solution, and I still stand behind that but let's look at the reality. if you're reading this post as a Salesforce user, chances are pretty high you don't even know what Tableau actually is capable of, and that is totally fine. If you are going to be in the flow as a Salesforce user, then invest in CRM Analytics, it's unmatched and keeps you inside the same tab.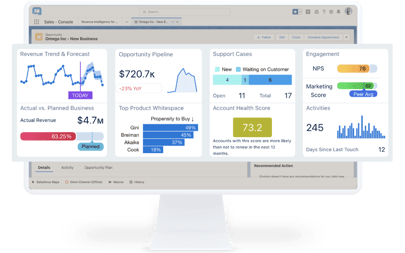 Make the best out real-time analytics right in the flow of where your users are, don't switch between applications and let Einstein AI help you with it's predictions and recommendations with in-depth analytics right in the heart of every step of your workflow in Salesforce. It's a no brainer, trust me.

`So why would you throw Tableau on top of that? Well, if you use more data sources next to Salesforce then Tableau would be your weapon of choice with the power to blend sources together for in depth analysis. It goes without saying that Tableau integrates seamlessly with CRM Analytics to that data will remain valuable to pull in also.


Reason #2: Don't see Tableau as a dashboarding tool.
I'm sure some eyebrows will be raised here. Don't get me wrong, Tableau is probably the best dashboarding solution out there. There is no platform that can build Dashboards as insightful and as fast as Tableau. It beats CRM Analytics, and any other platform out there, in ease of use, building speed and advanced visualisations you can build with it. Build your more complex company wide dashboards with Tableau, run your business on it with a set of 360° cockpit views, it's something we do at Biztory too. But Tableau is capable of way more than just pretty dashboards...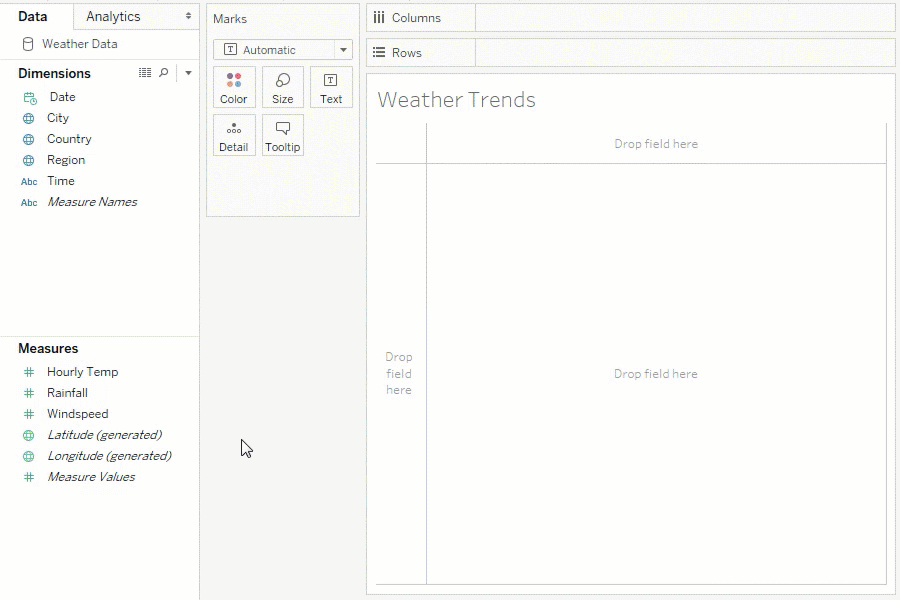 Use Tableau to get to insights using real-time data exploration. Any question you have in mind, any insight that was delivered to you by a dashboard or a widget in CRM Analytics that you would like to dig through? Fire up Tableau and starting asking questions, spot trends, identify anomalies and make data-driven decisions. Did you find anything you want dig deeper into? Connect your Salesforce data and any other data sources you'd like to join in and be ready to ask new questions, spot anomalies, identity opportunities and make data-driven decisions with confidence on the data you know, right out of Salesforce or any other source. Make Tableau your super power, people will notice.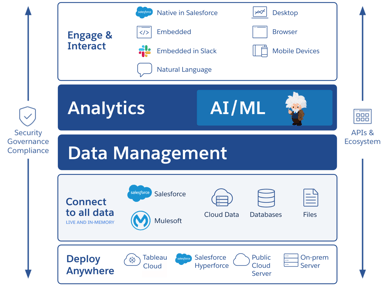 Don't worry about building a pretty dashboard, Tableau really shines when it's in ad-hoc analysis mode. Answering questions at the speed of thought makes you discover more insights adding value to your workflow. Bring your ideas to experienced Tableau users in the organisation and collaborate with them to incorporate these into future dashboards, or become a Tableau guru yourself and build amazing dashboards as you skill up ;-) These can then embedded nicely into Salesforce, to keep you in that flow and avoid that application switching for your more mainstream users.
If you're quite new to Tableau and really want to hear more how this could potentially fit into your Salesforce organisation? Our sales team is ready to consult. (CTA)

Reason #3: Monetise your data out of Salesforce. Today.
For those of you using Experience Cloud (formerly known as community cloud), there is a major opportunity you should jump on today. Tableau has always been very strong in embedded analytics right into applications; Many of Biztory's clients use Tableau either embedded into a customer portal, an application or even Salesforce to deliver insights to customers and/or suppliers.

With Tableau's capability to embed with ease into Salesforce Experience Cloud, with just a few clicks and complete single-sign on flow your users will be pulled right into beautifully embedded analytics, again staying in their workflow and avoid app switching.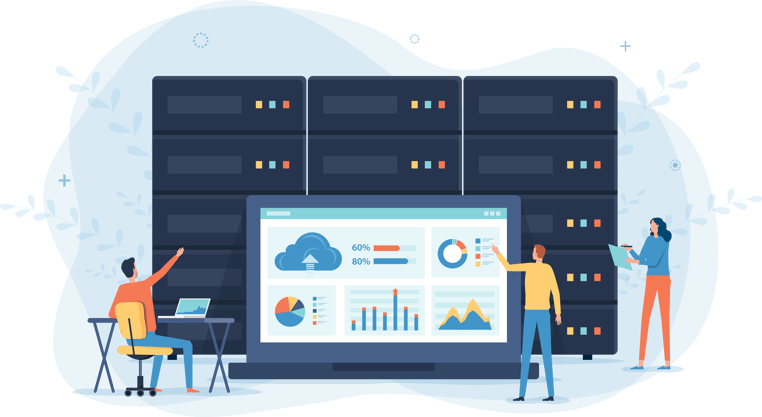 So how can Data Monetisation help your business? I'll list the most important bullets below.
1. Improve customer stickiness

Create differentiated and premium offerings that drive engagement, stickiness, and additional revenue from your existing products. Find new business opportunities through data monetisation.
2. Scale data-driven decision making
With embedded analytics, you move data and insights beyond IT departments. when enabling external users, like customers, partners and vendors with the same capabilities. Arming external users with valuable insights, all frontline users and partners can make more informed decisions at every interaction, driving better outcomes and results. This will elevate your internal teams, sales or other departments, to have better informed conversations with your customers using common data as the driver.
3. Increase and generate new revenue streams
Data monetization is a hot topic in the world of analytics right now. As the amount of data available to organisations is increasing, companies are realising that there are non-traditional and innovative ways to use this information to monetize their data. Data monetization happens when you turn company-generated data into measurable economic benefits for your business. Like cost reductions, additional revenue streams, etc. Retailers like Ocado, for example, monetize their data by providing their B2B customers with access to embedded dashboards that help them understand how to sell better on the Ocado platform: Crunch Grocery Insights. If you want to know more about Embedded Analytics, be sure to check out our Ultimate Guide to Embedded Analytics.


And that's it, I really want to aim my train of thought towards those users that are very well established in the Salesforce ecosystem. Analytics has a bright future with Salesforce Genie and Tableau, and you should definitely take a look at a lean Data Strategy for your organisation. If this was helpful, or you want to chat more, feel free to reach out to us and we'll be happy to talk about your Digital Data Strategy.