1. Why should you choose Fivetran?



Fivetran is the smartest way to load data into a warehouse. It offers seamless connectivity to applications, databases, files and events. They provide you (and your team) more time for analyzing your data, instead of connecting your data.
We list the most important benefits for you:
No engineering required

Able to transform the data using ELT

Incremental updates are possible for all the sources

Prebuilt connectors without any maintenance
2. What are the prebuilt connectors in Fivetran?



Fivetran offers 150+ zero-configuration connectors that launch in minutes. They save your company time, effort & worries because they create an automated flow of data on your schedule.
Here are a few examples of existing Fivetran connectors
| | | | |
| --- | --- | --- | --- |
| MARKETING | CRM | E-commerce | Database |
| Mailchimp | Salesforce | WooCommerce (Wordpress) | SQL Server |
| Facebook Ads | Zendesk | Magento | Amazon |
| LinkedIn Ads | Hubspot | Shopify | Oracle |
| ... | ... | ... | ... |
New native connectors are added frequently by Fivetran. Biztory (EMEA Partner of the Year) will assist you with requesting and developing a new native Fivetran connector.
Is Fivetran really that simple?
I'll be honest, before this blog post I had no experience with Fivetran.
Within 1 hour all my dummy Salesforce data, Mailchimp data and WooCommerce data were transferred into Snowflake without writing a single line of code.


3. Getting started with Fivetran in 6 easy steps



Step 1: Start your Fivetran free trial
Sign up for your enterprise platform trial:
14 days

Free, no payment details are requested

Step 2: Choose your Data warehouse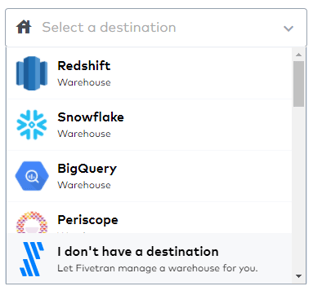 What if you don't have a data warehouse or data environment? Fivetran provides you with a free BigQuery warehouse. The Fivetran-managed destination is a BigQuery data warehouse. The warehouse is free to use for your account trial period of 14 days. When your free trial has ended, Fivetran's sales team will contact you to see if you want to continue using the warehouse. If you do, Fivetran makes you the billing owner.
If wanted you can also create a free Snowflake Trial, or you can simply use your own data warehouse if you have one.



Step 3: Identify your data sets for Fivetran
Ok, we covered our Fivetran account and we have an environment to store our data.
What if you don't have access to your business environment, or you aren't an admin of the existing accounts? You can generate some free dummy data via:



Step 4: Select your Fivetran connector
With each connector, Fivetran will provide you with guided step-by-step instructions on how to configure the connector. This may require you to visit other apps and websites belonging to your source system.


Step 5: Start initial sync
This action will start the entire process. Each connector has its own status page where you can manage the settings, an overview of the sync history, alerts, user actions and stats.


Step 6: Take a look in your data warehouse
Now your data should be available in your data warehouse.
You can always look at their documentation for more information or check their YouTube channel.


Did you know?

If you already have a Snowflake environment, Partner Connect allows you to set up Fivetran through Snowflake Partner Connect.
---
Let's get in touch
Whilst Data Pipelining is an important process in any Modern Data Stack, in isolation, it produces zero value.
The value your data holds only surfaces through analytics & insight. By cutting down the time and effort required to operate pipelines you can reallocate the capacity to do the things that matter most to your organisation, seeing & understanding your data.
We'll gladly show you how Fivetran will save you time and resources, make your data engineer's life easier and finally provide a stable and scalable solution to data pipelining. You can always start a free trial, just get in touch with us and we'll hook you up!
Bram Van Hooydonck
Account Manager
Biztory
---
Discover other Fivetran content