Talking about Fivetran
I've heard the name.... But what does it do?

The classic data integration tools force analysts to predict what insights they can get from a limited data set and then build a resource-intensive workflow around it that is dated and inflexible.
Fivetran changes that all, with its fully automated data pipeline built especially for analysts.
With automation extracting and loading the disparate data directly into your data warehouse, Fivetran provides a faster, better way to centralize all of your data sources so you can quickly model and obtain meaningful insights.
Pay only for the data rows you consume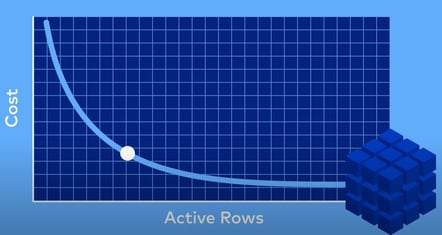 Pricing is based on your Fivetran usage, simple. Consumption is based on the amount of 'monthly active rows' within your warehouse. These 'monthly active rows' (MARs) are only counted and thus invoiced when a row is updated or inserted in your warehouse.
Pricing scales logarithmically, which simply means, when you replicate more data through Fivetran, you'll see the value of one credit stretched across more rows. The more you use, the more credit will be worth, the more rows can be inserted and updated per credit.
So to get a decent understanding of how many active rows you have per month, there's a simple calculation you can do:



Total amount of rows in your warehouse X the percentage of updated/new rows in your warehouse. The resulting number will give you your total amount of monthly active rows.
In this example, we take into account that 10% of the rows are updated. This is an estimation. In general, this percentage is somewhere between 10% and 20%.
The conversion rate of MARs to credits is determined by the consumption table. The more you use, the more credit will be worth.
Beginning February 1, 2022, Fivetran will charge for transformations per 100 Monthly Model Runs (MMR).
There are different pricing models
There a 3 main pricing tiers, that are specially designed to fit most use-cases/companies. In these 3 tiers, credits will be priced differently. You can always upgrade your plan if your usage has outgrown the current plan.

1. Starter - Jumpstart your data initiatives!
The starter platform gives you access to the pre-built connectors and post-load transformations to get started with automating data integration to power your business insights.
This model is the best fit for companies that have a small handful of web application sources that don't really need real-time data.
One Fivetran credit = $1.00

2. Standard - Control business logic and automate integrations
The standard platform unlocks the database connectors for your marketing, ERP, product or other data into your warehouse. This tier also grants access to the API's for programmatic management of your account. You'll also have access to 15-minute syncs for real-time reporting, which you can use to make better decisions.
This model is the best fit for the biggest part of companies, as it supports all integration use-cases.
One Fivetran credit = $1.50

3. Enterprise - Solve the most complex business requirements
The enterprise platform includes all features of the Starter and Standard models but also includes additional support. By supporting VPN tunnelling and having the possibility to use custom user roles, Fivetran can help maintain the internal security & compliance rules. This model also has an industry-unique SLA that guarantees your data access and your access to 5-minute syncs that maintain your business-critical data replication needs.
This model is the best fit for companies that have advanced internal security and compliance rules/needs.
One Fivetran credit = $2.00
So, how can we pay for all this awesomeness?
There are 2 payment options available for Fivetran at this point, monthly or annually:
1. Credit card
Paying via your credit card is definitely the fastest method. All you have to do is input your credit card details in your Fivetran account. That way, on a monthly cadence, your usage will be automatically billed. Of course, you have access to detailed reports about billing in your Fivetran account to follow up on everything.
2. Contract
You can also leverage a contract by contacting the Fivetran sales team through Biztory. This method offers more possibilities to explore discounts, get best-practice advice on your use case and get the highest possible value out of your purchase.
Refocus your time with the help of Fivetran.
Whilst Data Pipelining is an important process in any Modern Data Stack, in isolation, it produces zero value.
The value your data holds only surfaces through analytics & insight. By cutting down the time and effort required to operate pipelines you can reallocate the capacity to do the things that matter most to your organisation, seeing & understanding your data.
We'll gladly show you how Fivetran will save you time and resources, make your data engineer's life easier and finally provide a stable and scalable solution to data pipelining. You can always start a free trial, just get in touch with us and we'll hook you up!

Nicolas Beunen
Account Manager
Biztory
---
Discover other Fivetran content