Data is a valuable resource
Data is having an identity crisis. It's the new oil they say. No wait data is the new gold. Or is it the new sand? Water? No no no I've got it … Data is the new …. DATA!!
For thousands of years, gold was exclusively used to bejewel Nubian royalty before the Egyptians learned to cast and alloy gold in greater quantities (1500BC) and only recently began to be traded as a currency (50 BC). That's not to mention its chemically relevant properties in electronics, economics, and of course dentistry. I know, right?
Asphalt was a Babylonian building material until the Zhou dynasty extracted the oil in 4th Century China to help evaporate salt. The Japanese began using paraffin (which was known colloquially as burning water) for lamplight in the 8th Century but oil wasn't widely used as a fuel until the Industrial Revolution.
The point is that we're well accustomed to data hyperbole and at times it can abate the point; this is a valuable resource and it's up to us to resolve how we make the best use of it.
We're well drilled on the value of using our most abundant and valuable resource to simplify decision making, answer questions, inspire people and drive innovation but the new frontier of data is fast approaching.


Have you heard of Snowflake?
If, like me, you nodded politely when someone first asked "have you heard of Snowflake?" then you're in luck because this handy video should catch you up on why it's not just another "cloud data warehouse" (and YouTube will let you watch it on 2x if you don't have 11 minutes).
In fact, they brand themselves quite literally "the Data Cloud" because their technology is literally one big cloud data warehouse and the game-changer is; all data only exists once. That means no duplication of data at all. No, seriously there is none. This means different departments and project teams and curious individuals across your organization connect to a single source of data all at once all with their own bespoke front door.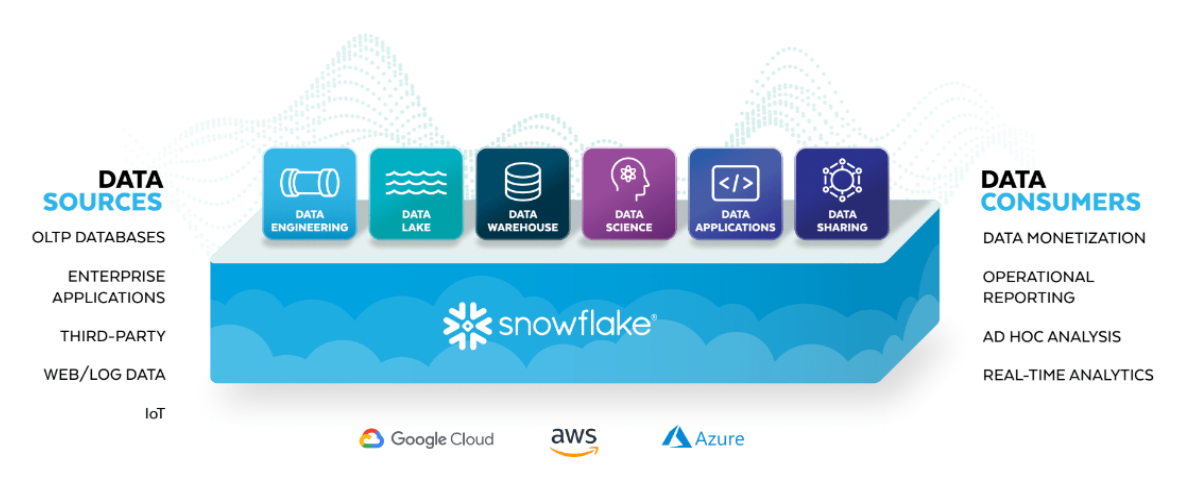 So now think bigger. If everyone's data exists in the same enormous cloud data warehouse, what if third-party data you need like Twitter feeds or live currency information was right there in your data warehouse with a click? Well, that's what the Snowflake Marketplace was designed for.
This means you can enhance your existing data with a click by highjacking someone else's data feeds. Why create your own temperatures dataset when AccuWeather has it available online? How could you mimic live traffic data without subscribing to Mapbox's live feed? Are you really going to scrape your own Fantasy Football data when Thoughtspot has made it available on the marketplace already?


The Pivot
Now a little bit more history before we get to the point...
In 1890 a young Chicago based soap salesperson needed a market differentiator and so started offering free baking powder with a purchase. That proved so successful he started selling the baking powder instead and giving away free chewing gum. Guess what happened next? The chewing gum was even more popular than the baking powder. That man was William Wrigley Jnr the soap turned baking powder salesman now most widely known for his chewing gum empire.
Today whether it be an unlikely chewing gum magnate, a bookshop turned data center, a burger joint comes real estate empire, or a logistics company now revolutionizing broadcast media we're all comfortable with a good pivot, and market-leading businesses are all actively seeking new revenue streams turning the thing they're accidentally good at into something else they do.
While there is tremendous value in offering analytics as a service, we are seeing data-savvy customers monetize their data simply by providing it in raw format for end users. For data-rich businesses this can be game-changing as they no longer need to invest in additional resources to mine the insights, provide the portals and maintain the infrastructure of a full product, they simply pop a new front door on their corner of the data cloud allowing paying customers to access raw, aggregated or anonymized information.
Could offering Data or Analytics as a Service be the next big pivot for data-rich companies? Like gold and paraffin before it, we believe the true value of data is yet to be realized.
If you want to know more then please sign up for more details on Snowflake Data Marketplace Spotlight on 17th August or give us a call, we'd love to hear from you.
---
Build a data-driven organization with Snowflake.
A powerful data cloud thanks to an architecture and technology that enables today's data-driven organizations.
Snowflake can power a near-unlimited number of concurrent workloads, ranging from data warehousing, data lakes, data engineering, data science, data application development, securely sharing and consuming shared data.
The true workhorse of any modern data team
. If you're moving data into Snowflake or extracting insight out of Snowflake, Biztory is the
technology partner
and
system integrator
you're looking for. We will help you deploy Snowflake for your success.
Want to try out Snowflake? We got you covered! Sign up for a Snowflake trial today and receive $400 worth of free usage when you test drive Snowflake. Don't hesitate to reach out to us if you need some assistance with you setting up your Snowflake trial. We'll get one of our bright minds to help you with it.
---
Discover other Snowflake content