Spire Member Biztory will be the first and leading European Tableau partner to go all in with Salesforce.
Biztory has become a well-established member of the Spire Group. Since 2015, their mission is to bring data visualization and analytics to the people with a hyper-focus on the product Tableau, a leading data analytics tool used for data analysis and business intelligence. Today, you can count on Biztory for full-stack data strategies.
Biztory and Spire are now broadening their horizons even more and taking it a step further to actively explore where Tableau's strengths can best be integrated with everything the Salesforce Platform has to offer.
We had a chat with Geoffrey, CEO and founder of Biztory and Katja Guerra, Co-founder and commercial director of Spire Group about their collaboration.
Tableau, the logical next step within a digital transformation journey with Salesforce.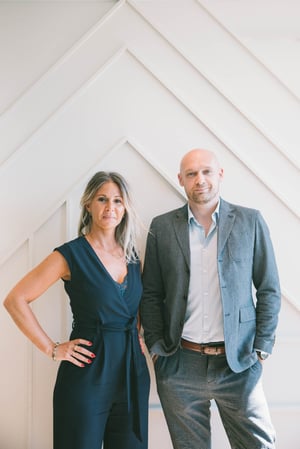 An increasing number of companies are embracing the full power of the Salesforce platform, including Marketing, Customer Data Platform, Custo
mer Service and eCommerce, as well as MuleSoft (also part of the Salesforce platform, for a well-considered integration strategy within their application landscape). As a result of these decisions, these companies have access to an immense amount of valuable customer data.
Katja: "We are seeing that our customers, who are really differentiating themselves in their market, are using Tableau analytics to drive their processes and decisions in an intelligent and insightful way with Salesforce."
Geoffrey: "Analyzing the right data is invaluable. This way, we help companies and their people to make strategic decisions in a data-driven way. This gives them the necessary insights about what to expect in the near future and where they need to adjust and stay competitive in the market."
Stronger together with a full focus on the power of multi-cloud solutions
With over +450 passionate Salesforce experts, Spire is always looking for the strengths and synergies of the multi-cloud solutions across Salesforce, Tableau and MuleSoft. Biztory is now fully embracing this multi-cloud focus, especially given Salesforce's increasing focus on CDP (Customer Data Platform). Biztory's years of experience and expertise with the Tableau platform is the perfect addition in Spire's offering to join forces and look for integrations between the different cloud solutions of the Salesforce platform and the strengths of Tableau.
Katja: "Spire's goal is to always follow Salesforce in their roadmap and strategy. For example: we fully followed them with their focus around CDP. Salesforce is also increasingly looking at the strengths of the platform and seeks the elements where they can distinguish themselves based on the business value to their customers. We already see this with Tableau CRM Analytics. We are convinced that, together with Salesforce, we will distinguish ourselves even more in terms of business value for our customers when we combine the strengths of Tableau and CDP."
Geoffrey: "We are all-in with Salesforce. Historically, Biztory has been a key Tableau partner for many years, supported by other vendors to provide the full modern data stack. By being the first big Tableau Partner in Europe collaborating intensively with Spire, we can now truly deliver end-to-end Salesforce projects, covering the Salesforce 360° wheel."
A fruitful collaboration with a bright future.
Spire and Biztory have already been on many wonderful projects together, which always led to strong results. Geoffrey and Katja want this collaboration to grow and strengthen in the future.
Katja: "We are extremely grateful to have Geoffrey on board. Together with his team he achieved tremendous successes with national and international market leaders in recent years and has taken analytics to the highest level. It was his initiative to think a step further with Spire which fits perfectly in our strategy to become the full-service partner in Customer Intelligence. Together we can definitely meet the ever-growing demands of our customers' customers".
Geoffrey: "Being a member of Spire is extremely valuable to us, it allows us to serve our customers even better and to offer them the full Salesforce offering in addition to our Tableau services. The Customer Data Platform (CDP) combined with Tableau is becoming essential to any Salesforce implementation."
Curious to know how the multi-cloud solutions of Salesforce, Tableau and MuleSoft can be a real gamechanger within your market?
Do not hesitate to contact our experts via spire-group.eu and Biztory.com
--
About Biztory
Biztory was founded in 2015 in the bustling city of Antwerp in Belgium. Their goal: bring data visualization to people with a hyper-focus on the product Tableau. Now, years later, they provide full-stack digital data strategies with the same passion in mind: People & their data.

Each of their partners (Tableau, Fivetran, and Snowflake) have played a key part in their success. Resulting in strong relationships with their partners. They are a multiple award winner of Partner Of The Year, Creating Customers For Life, and many more across their vendors.

Biztory has business units in Belgium, The Netherlands, The United Kingdom, Germany, Austria, and Switzerland and is expanding rapidly into new regions.
With their wide range of experience, they allow you to focus on what you do best. They persist where others give up. Their team loves a good challenge and will never stop looking for a solution.
About Spire Group
Spire Group is the leading full-service Salesforce specialist in Europe with a unique and strong multi-cloud Salesforce, Tableau and MuleSoft focus. They are an alliance of best-in-class Salesforce niche experts who have been focusing on one or more of the Salesforce cloud solutions since 2009. With more than 450 passionate Salesforce specialists, they focus on the strengths and synergies of the multi-cloud solutions within the Salesforce, Tableau and MuleSoft platform. With our Salesforce services model, we ensure that organizations get the most out of Salesforce. By providing support in using, managing and optimizing Salesforce software, they focus on achieving maximum returns.
The multi-cloud focus domains cover Salesforce Sales Cloud, Service Cloud, Marketing Cloud & Pardot, B2C & B2B Commerce Cloud, MuleSoft, Tableau, Tableau CRM Analytics and Einstein AI.
The proud members that belong to Spire group's alliance are Biztory, BRIGHTFOX, Dots&Arrows, Forward, The Customer Link and GoSoniq.